August focus: Domestic Cleaning Service

Leaflet distribution is an ideal marketing tool for your Domestic Cleaning business. In fact, it is a great way to market any type of business, no matter whether it's promoting a store that you own or manage, advertising new products, increasing your brand awareness or even testing a mail order system. Door to door leaflet distribution can help you reach both new and existing customers.
Below are some of the key ways in which leaflet distribution

can benefit your business:
Finding New Customers
Door to door leaflet distribution is a fast and effective way of reaching new customers or clients, some of whom may not even know your business exists. Your leaflets will also act as a reminder of your business to existing customers and clients.
Direct Marketing
With door to door leaflet distribution you are sure of reaching potential customers directly. They have no choice but to pick up your leaflet and look at it when it arrives through their letterbox, meaning every single leaflet distributed will be seen by a potential customer.
Multiple Views
Door to door leaflet distribution can be read by everyone living in the house. This means each leaflet can reach two, three, four, five or even more people.
Inexpensive Marketing
Distributing leaflets is an inexpensive form of marketing. Leaflets can be delivered for between $40-$70 per 1000, making leaflet distribution more cost-effective than online, radio and television advertising.
Acts As A Constant Reminder
Radio, television and newspaper/magazine advertising only gives you one chance to reel in your potential customer or client. However, many people keep the leaflets/flyers that they receive through their letter box in a drawer or attach it to a notice board for a later time when they want or need to contact you. An example of this is someone keeping a leaflet for a plumbing business for when they need a plumber in the winter.
Mail Ordering
Door to door leaflet distribution allows you to add an additional sales method to your business. You can advertise your products/services on a leaflet and include an order for at the bottom or on the reverse of the leaflet. People can simply fill in the order form and return the leaflet to you via post.
These are some of the key advantages of door to door leaflet distribution. This marketing tool can help find new customers and increase your sales at a relatively low cost to your business. It is a direct marketing tool that will reach a high number of potential customers and act as a constant reminder of your business.
Distributing Leaflet Advertising
When distributing your own form of leaflet advertising keep your message fairly simple, uncomplicated and free from clutter.  Most people are either too lazy or just don't have the time when it comes to reading, so make your ad easy to read by having lots of space around the main content. When you are going into their home it is a good approach to appeal to their need for a feeling of security, their need for more free time, and the fact that they may not like doing the work themselves.
In the example below you can see that there are three questions being asked here, and if you were to place yourself in the position of one who would need this service you would find your self answering yes to all three. Also, the leaflet is not 'busy' – it is easy to read. There is space either side of the name of the business and the telephone number, and the leaflet does not try to prove itself to the client. It just appeals to what is in it for them and to their need for security.  Take your ideas from this example and develop your own leaflet.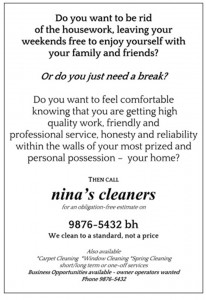 You can read in next article about: How Often Should I Promote My Services