Marketing
Now that you have done your research on pricing, obtained a professional valuation, and made the necessary improvements and fixes to make your home shine, you are ready to have your website built and/or list your property on other real estate sites where many people visit.
Up to now, you have been spending money preparing to sell your house. Now it's time to save!
How you market your property is probably the most important component of selling it success-fully at the right price. A successful marketing strategy will combine all the best strategies used by real estate agents while capitalising on the unlimited reach and convenience of the internet.
www.RealEstate.com.au is by far the biggest name in real estate, with millions of property searches each month and numerous pre-registered buyers with watch lists specifically identifying the types of properties they are looking for. If your home fits with their stated requirements, you are promoted directly to that prospective purchaser and may even sell immediately your home is listed on www.RealEstate.com.au .  However, only Domain.com.au allows private sellers to place an ad on their website. RealEstate.com.au is only for Real Estate Agents.
Online marketing is one smart way to market your home to the widest possible purchasing pool, which includes a ready market of pre-registered prospective purchasers. Online marketing will reach well over 50% of prospective purchasers, although it must also be complemented by an effective off line marketing strategy with visual prompts to attract buyers. Online marketing must partner with off line marketing for greatest impact because not everybody has access to the Internet and those who do usually require further visual prompts to close the sale.
With good preparation in terms of smart photography and a property description with market appeal, online marketing works for you 24/7 while allowing you time to attend to those other necessary aspects of successfully selling your own home.
When you create your own website or have one created for you,  you pay only one fee to host if for a year and buy a domain name, and your property stays online until it is sold or rented. Sites like http://www.webs.com allow you to set up your own website for free.
Unlike other forms of real estate sales there are:
No agent fees
No commissions
No repeat or monthly listing fees
No other charges payable!
Your own personal website will work for you day and night, seven days a week. However, you will need to market your site on various free classified websites in order to bring traffic to your site, as well as listing with as many free private home sale sites as you can. You will also need to put the website address into all of your marketing materials and your ads on the Internet.
Description: include all pertinent details, including size of land and buildings,number of bedrooms and baths, entertainment or family areas, and highlight any special features. Add a comment that makes your property stand out, such as "picturesque mountain views" or "watch stunning sunsets from back patio".
Any environmental features (water tanks, solar heating, energy efficient appliances) are also worth mentioning as these features are now high on the desired lists of many buyers.
Also be sure to include information on the local area and neighbourhood, such as proximity to schools, shopping, parks, medical facilities and public transportation. Including a map reference page is also a good idea.
Photographs: select the best photos and use these to illustrate the keypoints used in the description text. Be sure to include both exterior and interior shots. Also, crop your photos tightly so that relevant details and features can clearly be seen.
Once your website is complete, it's time to let your personal and professional networks know. Use your Facebook page and/or Twitter account to post links to your property listing, and ask friends and colleagues to pass along the word to their social networks that a "really good value property" has just gone on the market (if you don't have these social media pages, you will need to create them or have someone create them for you).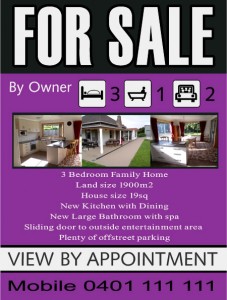 Another important way to let people know your property is for sale is by placing a prominent For Sale sign in front of your property to capture the attention of people passing by. Many potential buyers drive around neighbourhoods to "get a feel" for a locale that interests them. An attractive For Sale By Owner signboard lets them know your property is available. It is essential also for those who have seen the property online, as they do a "drive by" to determine if your house looks as good offline before making a direct approach.
You can arrange to have delivered a pre-printed professional sign measuring 900mm x 600mm with space for your contact information, made of corflute waterproof material. Check the Internet for Real Estate Marketing signs. Alternatively, you may choose to install a fixed board, available in a variety of sizes and prices.
.
Please read more in the next article……